Ref:
Date:
Location:
Photographer:
Ref:
Date:
Location:
Photographer:
Exhibitions
Download Camphill Entry Form for April 2018:
Camphill Entry Form
Download a guide to exhibiting with MKSA
EXHIBITING WITH MKSA
MKSA has a permanent (long term) exhibition at Camphill Cafe, Japonica Lane, MK15 9JY. The cafe is open Monday-Friday 10.30am-4pm. Sale of paintings helps to raise funds for the Camphill Charity. The exhibition is changed every 3 months. A catalogue of the framed works on display can be downloaded from MKSA's Facebook page.
We have a second permanent exhibition at the Sherwood Gallery, Challenge House, Sherwood Drive, Bletchley, MK3 6DP. The sale of paintings helps raise funds for Hearing Dogs for the Deaf. The cafe on the premises is open Monday-Friday 7.30am-3pm. The exhibition changes every 3 months.
We have annual exhibition at Woburn around the time of the August Bank Holiday at St Mary's Church, Park Street, Woburn, MK17 9PG. More details will be issued nearer the time. Sales revenue helps to raise funds for St Mary's.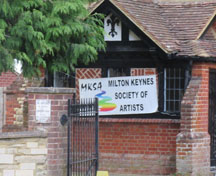 Every two years we hold an exhibition at Stony Stratford to coincide with Open Gardens. The venue is Swinfen Harris Hall, London Road. MK11 1JA. The next one will be in 2019.