Ref:
Date:
Location:
Photographer:
Ref:
Date:
Location:
Photographer:
News
MKSA LATEST NEWS
AUGUST 2017 COFFEE MORNING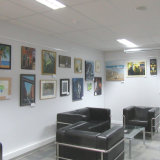 Our August Coffee Morning was held at the Sherwood Gallery, Challenge House, Sherwood Drive, Bletchley MK3 6DP to mark the opening of our new permanent exhibition. The exhibition will change 3 or 4 times a year and the sales will help to raise funds for Hearing Dogs for the Deaf. The cafe on the premises is open 7.30am-3pm Mon-Fri.
The opening was well attended and we sold two paintings during the first hour. They were Sunflower Sunburst, by Hazel Wakeman, and On The Beach by Charmian Hayes.
EXTRA PAINTING DAYS
From 5th September 2017 there will be a second painting day each week - this will be on Tuesdays, 10am-4pm (bring a packed lunch), each person attending pays £3 towards the rental cost, and the venue is The Virtuosity Studios, Church Street, New Bradwell, MK13 0DA.